Several years ago Janice had purchased some primitive terra cotta colanders from Michael Chiarello's napastyle.com website. One of them arrived broken. We put it outside where it has been through two or three winters--weathering and breaking into smaller pieces.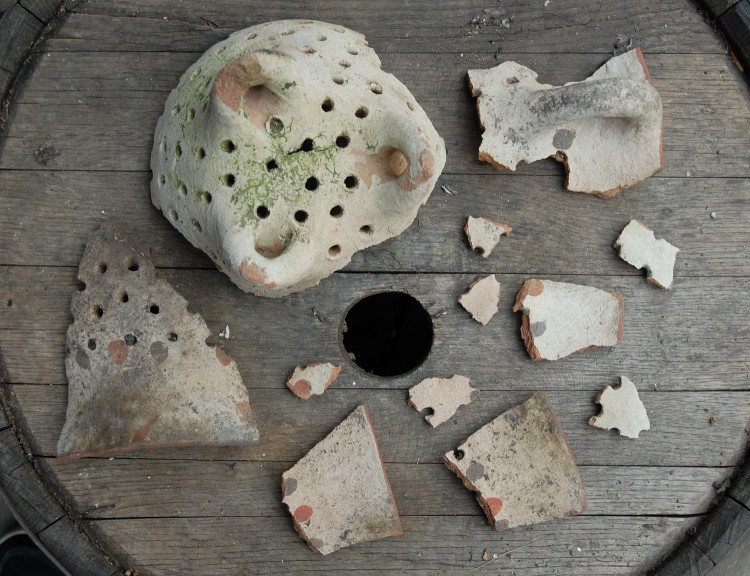 The idea of creating this hanging display arose as I was doing some spring cleaning around our backyard deck. As I was picking up the pieces of broken terra cotta--from this and a broken saucer--I thought "I should do something with these." My first thought was wondering how they would work in one of my frost catchers--maybe the terra cotta would be a good material for attracting or growing frost. So I just started thinking about how I would wrap one of these pieces in wire or string to include it in a frost catcher. This led to thinking about alternative uses and ideas--e.g., taking a bunch of these terra cotta pieces and wiring them into some sort of object (e.g., a clay pot) or display (e.g., a hanging panel). Working on frost catchers as well as on one of Janice's projects the previous fall--creating large stick wall panels--had me primed to think about wrapping things with wire (like broken sticks). I liked the images I was coming up with in my mind's eye: broken pieces of clay held together with string or being held together in a wire skeleton.
I stopped working, got some brown twine and started tying the broken collader pieces together. I went from initial idea to completed object in about four hours that day.
This project initiated a creative surge in my life that propelled me through a number of similar projects. Inspired by the hanging panel, I moved on to the weathered glazed pieces from the saucer and began wrapping them with wire over the course of several evenings while sitting on the living room couch. I created a clay pot from these pieces. I then applied the same wire-wrapping idea to create a stone pot.